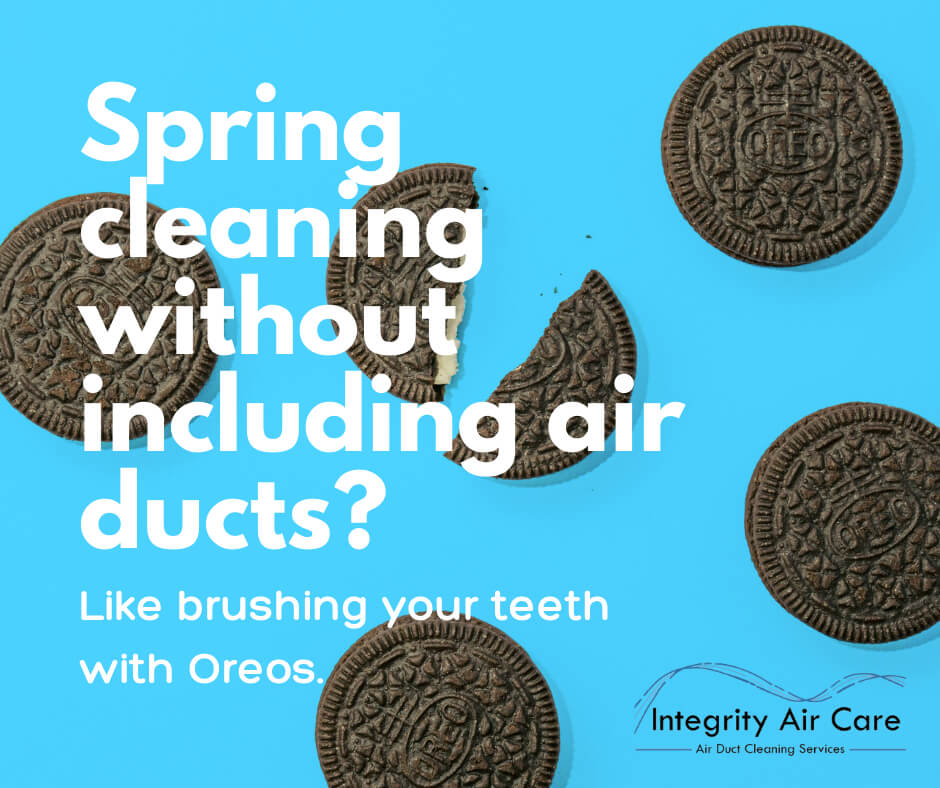 Spring cleaning your home without including your air ducts is like brushing your teeth with Oreos
It's finally springtime which means it's time to open all the windows, clean out all the closets, and get your air ducts cleaned out. Most people forget about that last one. And it's understandable. Most people don't interact with air ducts throughout the year but making sure they get cleaned at least once a year can be helpful in preventing other problems in the future.
Spring is usually the time of year where people get out of hibernation, go outside more, and do some much-needed cleaning around their house. But the one thing you can't forget about is your air ducts.
Not Cleaning Air Ducts is like Brushing Teeth with Oreos
When people forget to clean their air ducts during their regular routine spring cleaning session, it's almost like brushing your teeth with Oreos. One, you won't want to do that because it's a complete waste of Oreos. But on the other hand, you're wasting energy to not even have a home that is deeply cleaned.
This is why it's important to find air duct and dryer vent professionals in metro Atlanta so that this spring you say bye-bye to cleaning with Oreos and say hello to using some Colgate, as in cleaning your air ducts.
Reasons Why It's Important to Clean Your Air Ducts
Throughout the winter, your air ducts have been collecting mold. All that dry dust that gets stuck turns sticky in the winter and then turns into mold over the spring and summer from the humidity. Taking the time to clean your air ducts out in the spring allows you to get ahead of a possibly more serious issue.
Spring is also that perfect time of year when you don't need to turn on your heating or cooling systems throughout the day which gives your air ducts a rest and you the time to clean them out. Once the air ducts are cleaned out, you won't have to worry about it getting uncomfortably hot or cold in your home. Trees are budding and flowers are blooming which means there are many allergens and pollen out in the air. Cleaning your air ducts helps mitigate your family's reaction to all those extra elements in the air.
When you make it a point to clean your air ducts once a year, you also save money by maintaining them regularly since your system won't have to work hard to keep things running. This also helps your air ducts last longer. You may not get in contact with your air ducts regularly but what is even more of a reason why you should hire a professional to make sure that your air ducts are cleaned properly.
In Conclusion
It's important to find the best air duct cleaning company to get the job done efficiently. At Integrity Air Care, we make it our promise to provide high-quality cleaning services to our community and being known as the mold testing pros. You want professional support when it comes to air duct cleaning to ensure that this spring is the cleanest one.